01 Jan

Conqueror News Volume 10

Volume 10 – 2019.01.01
Greetings Conqueror!
The Braille Killer Cover Reveal
As a Conqueror, you get priority access to cool things like cover reveals for my new novels. Today, I've got your back with my new cover for
The Braille Killer
.
Here's a sneak peek of The Braille Killer in case you missed it before. It's a mystery thriller novel with a bit of paranormal. I don't have a release date for it nailed down quite yet, but you'll be the first to know when that will be! The sneak peek of The Braille Killer is the first chapter of the novel. It's the raw, unedited version (and differs a bit from the final draft).
I've connected this tale to my story world, Centauria. Centauria is where my The Dark Heart Chronicles series takes place. The 1st book in that series is Dark Lament. You can read sample chapters of it on my website here.
I'd love to know what you think of the new cover. Share your comments with me on Facebook or Twitter or reply to this email.
Enjoy!

Daniel Kuhnley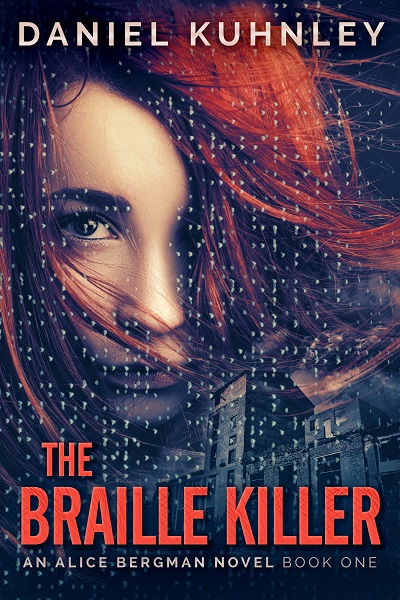 Writing Update

2018 was full of firsts for me, including releasing my first and second novels. I learned a lot about writing, publishing, and marketing during the year. I also hit a personal goal of writing more than 10,000 words in a single day!
This year, my goals are higher than ever. I'm gearing up to release four new novels in 2019, along with at least two novellas. I'm not certain if I'll meet that goal, but a little encouragement from you would be awesome!
Give me a shout out on social media and please leave a review of my books on Amazon and Goodreads! Very little is more important to an indie author like me than reviews. In the beginning, they're more important than sales!
---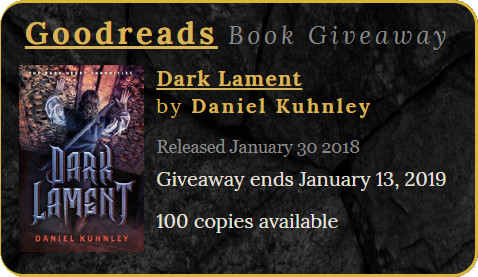 Dark Lament Giveaway!
I'm giving away 100 copies of Dark Lament on Kindle in January! Enter today, and please share the following link with every reader you know!
Four FREE dark fantasy novellas!
That's right! My good friend and editor of Dark Lament and Reborn, Ben Wolf, is giving away four novellas in a dark fantasy series called The Blood Mercenaries Origins. They are prequels to a much larger series he's launching this spring.
These novellas track four different mercenaries and help get you up to speed on Ben's creative and imaginative new world of magic and mayhem. Each tale is unique with a feel all its own, yet they blend together perfectly. I beta read all four of them and I'll tell you right now that I'm super excited to get my hands on his new novel when it releases!
Check out the link here to subscribe to Ben's newsletter and get reading today!
Follow Me On Social Media & Author Platforms