29 Jan

Conqueror News Volume 11

Volume 11 – 2019.01.29
Greetings Conqueror!
Can you believe it's been exactly one year since the release of Dark Lament? I'm just as excited today as I was that day because my new novel, The Braille Killer, is available today! This is my debut mystery thriller novel and I'm looking forward to hearing what you think of it.
Thanks!
Daniel
The Braille Killer Is At Large!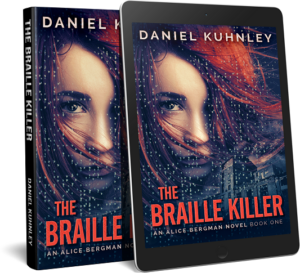 Help Catch A Killer!
Get your copy of The Braille Killer on
Hardback.
Pre-order it on Kindle before 02/05/2019 for $4.99 and you'll save 28%. Price increases to $6.99 at launch.
Paperback edition will be available 02/05/2019

Audiobook edition will be available mid-February.
How can you catch what you can't see?
Blind at birth, Alice Bergman's sight has been restored—but her childhood struggles and the assault she endured have never been forgotten. For the last ten years, she's been secretly receiving letters from her attacker–letters written in Braille.
Now a homicide detective, Alice is assigned a murder case. The victim? A blind girl. The scene is preternaturally clean, far more than can be explained in any rational way. Alice is able to relive the girl's last moments–but she can't see the girl's killer.
That doesn't matter, though. Alice knows the killer is the same person who attacked her as a teen.
When another girl is murdered, Alice herself becomes a suspect due to grisly evidence at the murder scene. When the stress of the case and the trauma of her past combine to bring on the same blindness she faced as a child, Alice must struggle in the dark to catch the killer and regain her sight before the Braille Killer strikes again–this time, much closer to home.
A dark and gritty beginning to a new and thrilling series, read the first Alice Bergman novel now!

FREE Alice Bergman Novella
Get your FREE copy of my new novella, Birth Of A Killer, and experience Alice Bergman's origins. Alice is the main character in The Braille Killer.
I wrote this story for you, my subscribers, as a gift to show my appreciation. I hope you enjoy it!
P.S. – You can share the download link with your friends!
Alice Bergman: An Origin Story
Blind since birth, 16-year-old Alice Bergman wants to have more independence. After a brutal attack she can't remember, she's afraid and consumed by nightmares. Now her mother is even more protective.
When boys at school end up dead, she suspects foul play, and fears she may be to blame. Alice must conquer her demons and remember what happened before the killer strikes again.
Birth Of A Killer is the dark and creepy origin story of Alice Bergman from The Braille Killer novel.
If you like mystery, suspense, thrillers read how her journey started today!

Follow Me On Social Media & Author Platforms