What is a Conqueror?
A Conqueror is one of my loyal readers. You want to be the first to know what I'm writing and when you can read it. I like to reward Conquerors with free stuff, so sign up and you won't miss out!
Download Scourge, A World Of Centauria Novella, FREE with signup.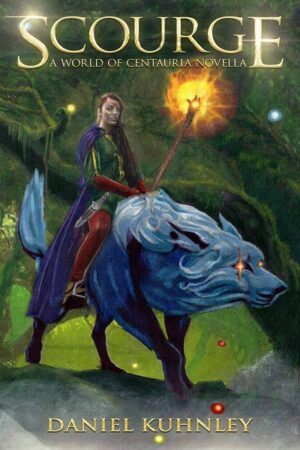 Never use persuasion magic on a powerful wizard.
That was Emorith's hardest lesson to learn. Right from that fateful moment, Magus forced her to use her manipulative sorcery to further his evil purposes. She regretted everything he put her through with one exception: their son Illian. Him, she loved with all her heart.
Magus demanded she cast an apocalyptic curse and destroy an unsuspecting city. She steeled herself to refuse him… but then he threatened the life of her beloved child.
With Illian's life on the line, what choice did she have? She wanted to protect the city and its citizens, but her son would always come first. No, there must be another way. Will she be able to thwart Magus and save them all in time? Or is their fate already sealed?
Scourge is a prequel novella to The Dragon's Stone, the first book in The Dark Heart Chronicles epic fantasy series. If you like thrilling adventures and terrifying magic, then you'll love Daniel Kuhnley's enthralling tale.
Download Birth Of A Killer, An Alice Bergman Novella, FREE with signup.
A paranormal serial killer thriller that'll keep you turning the pages.
Be careful what you dream when murder is on your mind.
My name is Alice, and I'm a sixteen-year-old ghost. No, I'm not actually dead, but I was born blind. The sad thing is the world's more blind to me than I am to it.
That is, until the day he noticed me. A bully. He ruined my life and turned my dreams into nightmares, so what could I do? The same thing any girl my age would do—I wished he'd die.
Then… he turns up dead. Naturally, I freaked out. Am I to blame? Did my nightmare kill him? Would anyone believe me if I confessed?
It's absurd. I know it. Nightmares don't come true… do they?
Birth of a Killer is the suspenseful prequel novella to The Braille Killer. If you like unique sleuths, origin stories, and a hint of the supernatural, you'll love Daniel Kuhnley's nail-biting tale.
Conqueror News email updates with info about my upcoming novels.
You'll be the first to know about book launches, events, deals, and discounts, and the first to see new book covers.
You could win free stuff like a personalized signed book or a live chat with me.
You'll have opportunities to influence my stories by voting on what I write next, helping me choose new characters, cover art, and anything else I dream up.
I promise not to sell your information to anyone or spam you. Conqueror News is for you, and I hope you enjoy receiving it. You can click the unsubscribe link in any of the emails to stop getting them.
Conquerors, I need your help!
Reviews from readers like you are critical to the success of indie authors like me. Please leave reviews of my books on Amazon, Goodreads, and BookBub and let others know what you enjoyed about my books. This helps readers discover my books and allows me to continue writing new ones. You can find a full list of review links here.
If you use Goodreads please add my books to relevant lists on listopia.
Are you an Artistic Conqueror?
You read the novels, pictured the scene or character perfectly, and captured that image for the world to see? Awesome! I'd love to see it. Please share it with me on social media for a chance to have it featured on my website. Artists featured on my website will get a free signed copy of the book that inspired your artwork.
Romans 8:37