Volume 15 – 2019.09.06
Greetings Conqueror!
It's been a few months since my last update, and there are several things I'd like to share with you, including free books. Read on for details!
Thanks!
Daniel
Seeking ARC Team Members!!!
What is an ARC Team you ask? ARC stands for Advanced Reader Copy. So, I'm looking for readers who enjoy my books and are willing to read my New Releases before launch day and leave honest reviews on Amazon, Goodreads, and BookBub ON launch day as well as posting to social media sites like Facebook, Twitter, and Instagram.
I'll send ARC team members a free eBook of the New Release before it's available to anyone else. If you're interested, please respond to this email with a link to any/all past reviews you've done of my novels and/or novellas. Once the ARC copy is delivered to you, you will have two weeks to read it before launch. Make sure you're able to commit to this before signing up.
Also, please specify in your email if you want to be an ARC Team reader for my Dark Fantasy novels, Mystery Thriller novels, or both. Not sure which to choose? You can always change your mind later by emailing me.
If you haven't read any of my novels yet but would like to be on my ARC Team, please download one of my free novellas from my website. Then read it and leave a review on Amazon and Goodreads. Once you've done that, send me an email with a link to your reviews, and I'll add you to my ARC Team. If the New Release is a sequel to a series and you haven't read the first book(s), send me an email and I'll get you hooked up.
You might be wondering why I'm doing this, and quite frankly it's simple. Reviews are paramount to authors and their success. That's why I'm willing to give you a free book in exchange for an honest review.
One last thing. If you become a member of my ARC Team, you will be automatically entered into an exclusive giveaway with each release (based on the genre you signed up for) for a signed copy of the new novel.
Don't miss out! Sign up today!
Writing Update

Can you believe that Rended Souls, Book 3 in my The Dark Heart Chronicles Dark Fantasy series, will be launching soon? Yep, you read that right. I've got October in my sights.
I'm finishing up edits this weekend and have one last step to go through before final edits and proofreading. What is that "one last step" you ask? Would you believe me if I told you that an award-winning author friend will be reading through it? It's no lie! Awesome, right? I'm excited!
For you Alice Bergman fans, I've started working on the sequel to The Braille Killer and hope to have it out by the end of the year. Either way, I assure you that it will be another intense, serial killer ride and one worth waiting for!
Available Now In Hardback & Paperback
If you don't remember, Scourge is my FREE Dark Fantasy eBook novella, and Birth Of A Killer is my FREE Mystery Thriller eBook novella for Conquerors like you. If you enjoyed them and want to add the physical book to your library of Daniel Kuhnley's books, I just released them on hardback and paperback. I decided to release these novellas this way because of feedback from fans just like you.
If you've read either of these, please leave a review on Amazon, Goodreads, and BookBub. Your support in this manner is needed and greatly appreciated!
Ben Wolf's Path Of Shadows Review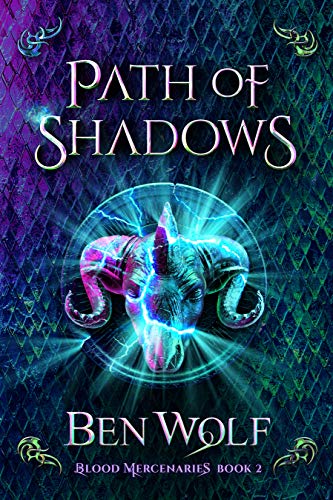 As some of you will remember, I reviewed Ben Wolf's The Crimson Flame in a past newsletter.
Path Of Shadows is the second book in Ben's Dark Fantasy series The Blood Mercenaries. The story picks up right where The Crimson Flame left off.
With copious amounts of peril, traps, death, destruction, and mayhem, there is a lot to love with this book. The characters are great, the story is fast-paced and intense, and it's just an all-around great read.
Pick up a copy and give it a go!
Follow Me On Social Media & Author Platforms